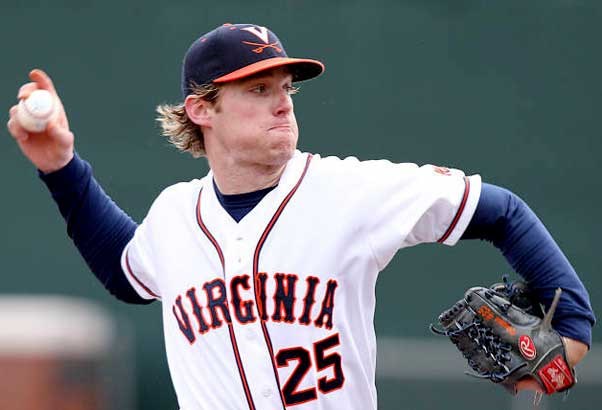 Seeing one 'Perfect Game' in the course of a decade seems reasonable, but THREE in one spring? Richmond Braves pitchers have set the bar high in 2011 turning in three perfect games in just over a month.
Will Roberts (RHP/Virginia/Richmond Braves 2008) threw the eighth 9-inning perfect game in the history of NCAA Division I baseball. Roberts, a weekend starter and junior at Virginia, cruised through the evening unscathed and struck out 10 as the #1 ranked Cavaliers defeated George Washington 2-0.
Just a couple weeks later, Sam Kmiec (LHP/Richmond Braves 2011) followed suit with a perfecto of his own while pitching for Hurricane High School (West Virginia). The senior lefty struck out 13 as Hurricane took care of Capital High School 8-0.
After hurling two no-hitters already this season, sophomore right hander, A.J. Powell (RHP/Richmond Braves 2013) tossed a perfect game for Broad Run High School (Virginia). Powell struck out six and walked none as the Spartans beat Dominion High School 11-0 in five innings.